Omega Vegan EH Safety Boot
|
This sleek Steel-Toe Work Boot was developed for Professional Women using High-Performance Vegan Leather. This model features a universal fit that comfortably accommodates most women. It runs true-to-size, but if you're between sizes order the larger one.
‣ Almond Shape Steel Toe Design
‣ ASTM Certified & OSHA Compliant
‣ Electrical Hazard Certification (EH)
‣ Impact & Compression Resistant (I/75 C/75)
‣ Oil & Chemical Resistant Outsole
‣ Slip-Resisting (Dry & Wet surfaces)
‣ Durable & Waterproof Vegan Leather
‣ Resistant to Abrasion, Tearing, and Flexion
‣ Lightweight Design
‣ Impact Absorbing Insole (Anti-Fatigue)
‣ Breathable & Antimicrobial Lining (Air-Flow Tech)
‣ Comfortable Ankle Padding
‣ Premium YKK Zipper (Outside Foot)
‣ Handcrafted in North America
‣ Made for Women by Women

Also available in LWG Certified Full-Grain leather on the Omega EH model.

---
Your stylish Omega Vegan EH Safety Boot is made from high-performance Vegan Leather that was specifically developed to meet your toughest demands. It replicates the beautiful aesthetics of natural leather at a microscopic level while staying highly resistant to water, chemicals, abrasion, tearing, tension, flexion, and perspiration. 
Each pair is hand-crafted in North America and features an official Electrical Hazard certification from ASTM. Walk confidently from the office to the job site to beyond!
We also have this boot available in full-grain leather on the Omega EH. If you want a more fashion forward style with a higher heel, look at our Gravity shoe.
High-Performance

Vegan Leather

Electrical Hazard Rating

(EH)

ASTM F2413-18 Certified

OSHA Compliant

Impact & Compression Resistant

(I/75 C/75)

Dual-Density Slip Resisting Outsole

(Dry and Wet Surfaces)

Durable, Waterproof, 
Eco-Friendly

Oil & Chemical Resistant

(ASTM D471)

Lightweight

Design

Breathable & Antimicrobial
Mesh Lining (Air-Flow Tech)

Impact Absorbing
Insole (Anti-Fatigue)

Handcrafted In

North America
SIZE GUIDE
Please refer to our official size guide to help place your order. All Xena safety shoes feature a universal fit that comfortably accommodates most women who have slender, regular, and even wide feet. The Omega Vegan EH Safety Boot model runs true-to-size. Please order the size you typically wear, but if you're in between sizes we recommend getting the larger one.
SHIPPING OPTIONS
• Free (3-8 business days)
• Express (2-5 business days)
• 2-Day (2 business days)
• Overnight (1 business day)
• International (varies by country)
We ship all orders Monday-Friday between 7am-2pm CST. Placing an order after 2pm CST may push your shipment to the next business day.
BREAKING-IN VEGAN LEATHER
Your beautiful new steel-toes can take 3-5 days to break-in as the footbed settles, the boot stretches, and the shoe-padding takes on the shape of your foot. Please 🙏 wear your new shoes at home and avoid wearing them outside or at work until you're certain that the size and fit work well for you. Our small team cannot accept back worn Xenas.
CARING FOR VEGAN LEATHER
We use high-performance Vegan Leather that's resistant to water and chemicals, however, dirt can still collect on the surface. To clean, simply wipe your Xenas down with a cloth using warm and soapy water. Make sure to avoid placing the shoes next to a direct heat source as the shoes are drying as this could cause material damage.
EXCHANGES & RETURNS
We believe in providing you with the best customer service which includes worry-free exchanges and returns. Please make sure to initially only wear your Xenas at home to help to make sure they don't show signs of wear. Unfortunately, our small team cannot salvage used booties with scuffs or dirty outsoles 😔. To initiate your exchange or return please navigate to our Exchange and Return Portal and we'll help you right away! If you run into any questions or difficulties, please email us at support@xenaworkwear.com.
Customer Reviews
Write a Review
Ask a Question
09/10/2020
Lauren M.
United States
Chemical and Labor
These boots are incredible. They fit true to size, have the most comfortable fit and are extremely stylish. You'd never know that they're steel toe and safety rated just by looking at them. They arrived quickly and I have already gotten so many compliments!
08/27/2020
Kaleigh R.
United States
Charlie's Acres Farm Animal Sanctuary
LOVING these boots. They only took a few days to break in. I work at a farm animal sanctuary and really put my boots through the ringer so I was thrilled to get these vegan leather steel toe boots that I can feel good about wearing around rescued cows and that protect my toes from being stepped on while frolicking with the grass puppies.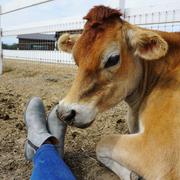 09/28/2020
Kelly R.
United States
billet+blade/woodworker
I have been looking for vegan work boots for quite awhile. I am so glad I found Xena. These boots are perfect in the woodshop. The steel toes give me that extra protection I need. I love that they are designed for women. Having appropriate gear that is actually designed for women is a game changer! These boots are practical and look great. I highly recommend them.
09/23/2020
Stephanie D.
United States
Geotechnical Drilling
These boots are hands-down the most comfortable and well made work boots I have ever owned. Not only do they look incredibly sharp, but they can withstand the mud and grime that comes with being a geologist doing geotechnical drilling. I would absolutely recommend these to anyone looking for a high-quality pair of boots and I will definitely be back for a second pair in the near future!
09/21/2020
Candy A.
United States
Medical Device Manufacturing
This is the first pair of steel toe boots I've owned. I appreciate that they're not clunky man shoe. It took several days to breaks them in. I ordered a 1/2 size larger but have has to stuff the toe otherwise my feet slide. The toe width is narrow. Hopefully it will give a bit more with time.
09/17/2020
Audra S.
United States
AKG of America
I have purchased a lot of steel toe boots in the past twenty years, But never as comfortable as Xena.I am so excited to order my Knee High Boots in 15 more days!!!! Hat's Off To My Xena Sister's..