Omega Vegan EH Safety Boot
|
This lightweight steel-toe work boot was designed to meet the needs of professional women in demanding industries. Walk seamlessly from the job site to the office and beyond in ASTM Certified, OSHA Compliant, Electrical Hazard Rated, Slip-Resisting safety boots. Each pair of Vegan Omegas is handcrafted in North America using Waterproof Vegan Leather that replicates the beautiful aesthetics and durability of leather at a microscopic level. –Order 1/2 size up for best fit.–
Electrical Hazard
ASTM Certified
Durable Waterproof
Vegan Leather

Impact Protective




Steel-Toe Cap

Free Domestic
Shipping
30-Day Returns
& Exchanges
6-Month Footwear
Warranty
SAFETY
‣ ASTM Certified (F2413-18) & OSHA Compliant
‣ Electrical Hazard Certification (18,000 Volts)
‣ Impact & Compression Resistant (I/75 C/75)
‣ Oil & Chemical Resistant Outsole (D471)
‣ Dual-Density Slip Resisting Outsole (Dry & Wet Surfaces)
‣ Low-Conductivity Zipper (Auto-Lock Tech)
‣ Durable & Waterproof Vegan Leather

COMFORT
‣ Lightweight & Flexible Design
‣ Made for Women by Women
‣ Comfortable Ankle Padding
‣ Impact Absorbing Insole (Antimicrobial)
‣ Breathable Mesh Lining (Air-Flow Tech)
‣ Wide Sizes Available

STYLE
‣ Beautiful Smoky Gray Texture
‣ Almond Shaped Steel Toe Cap
‣ Handcrafted in North America

CONVENIENCE
‣ Free U.S. Shipping
‣ International Shipping Available
‣ Free 30-Day Exchanges & Returns
‣ Comprehensive 6-Month Footwear Warranty
Customer Reviews
Write a Review
Ask a Question
04 Mar 2021
Karen K.

United States
Gensler - Architecture
I have only worn them once on site since receiving, but at this point I love them. Still figuring out what weight of sock to wear as the weather is fluctuating 40-50 degrees each day. Ordering 1/2 size up to allow for sock fit is a good rule of thumb for these, though.
03 Dec 2020
Jessica W.

United States
I work as a safety specialist in a window manufacturing factory
I love these! So comfortable and stylish! I think I have a problem this is my second pair of Xena safety boots and I'm sure I will order again!
12 Oct 2021
Gaylen B.

United States
Storm water inspection/ Construction
I had to return them two times because the sizing didn't work for me. I worked with their customer service who was awesome about making sure I got a pair that fit. I'm so excited to have these! I love my redwings but it was time for a style upgrade and these are it. Love the product and the customer service.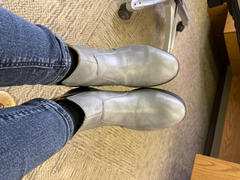 12 Oct 2021
Joanna B.

United States
Restaurant/Barista
I'm on my feet all day at the coffee shop and I wanted a durable boot that would not only look stylish but be practical as well. They are easy to clean and wipe down any spillage and stickyness. They also make me feel safe with the tread on the bottom. There is always water everywhere and many things to slip on. The only thing I would do is add a more comfortable insert. I'm on my feet for 9 hours straight and I do feel my feet get pretty tired towards the middle of the day.
11 Oct 2021
Nicole R.

United States
United States Gypsum
I love these shoes. I love having fashionable shoes for work. They stay pretty clean for the environment I work in. I get tons of compliments in them and everyone can't believe they are steel toed.
09 Oct 2021
Erika D.

United States
Machine Shop
I love the boots, I wish I would have tried the regular instead of wide fit but they're still adorable. The only thing I was not impressed with was that the zipper fell off one of the boots after a week so I have a hard time zipping it up or down without the pull but I believe Xena is sending me a replacement and instructions on how to replace.