Omega EH Safety Boot
|
These light steel-toe boots were designed to meet the versatile needs of professional women. ASTM Certified, OSHA Compliant, Electrical Hazard, Non-Slip work boots never looked this good. Our Stylish Black and Bourbon Brown styles are handcrafted in North America using genuine full-grain leather for an unforgettable fit.
ASTM Certified
OSHA Compliant
Electrical Hazard
EH Certified

Impact Protective




Steel-Toe Cap

Free Domestic
Shipping

30-Day Returns




& Exchanges

6-Month
Xena Warranty
womens steel toe boots
work shoes for women
steel toe boots for women
women's work boots
womens steel toe shoes
steel toed steeltoe safety shoes for women by women
SAFETY
‣ ASTM Certified (F2413-18) & OSHA Compliant
‣ Electrical Hazard Certification (EH Rated)
‣ Impact & Compression Resistant (I/75 C/75)
‣ Lightweight Steel Toe Cap (Steel-Toed Protection)
‣ Oil & Chemical Resistant Outsole (D471)
‣ Low-Conductivity Zipper (Auto-Lock Tech)
‣ Dual-Density Slip Resisting Outsole (Dry & Wet Surfaces)*

COMFORT
‣ Lightweight Design
‣ Made for Women by Women
‣ Comfortable Ankle Padding
‣ Impact Absorbing Insole (Antimicrobial)
‣ Breathable Mesh Lining (Air-Flow Tech)
‣ Available in Wide Sizes

STYLE
‣ Handcrafted in North America
‣ Choose from 3 Beautiful Styles
‣ Stylish Black Genuine Leather (Flexible, Breathable, LWG Certified)
‣ Bourbon Brown Full-Grain Leather (Flexible, Breathable, LWG Certified)**
‣ Vegan Grey Leather (Waterproof, Durable, Breathable)

CONVENIENCE
‣ Free Domestic Shipping
‣ Simple Exchanges (30-Days)
‣ Worry-Free Returns (30-Days)
‣ Premium Xena Warranty (6-Months)
‣ International & Expedited Shipping Options

*Not Rated for Oily Environments
**Bourbon Brown full-grain leather color may vary slightly from photos
Customer Reviews
Write a Review
Ask a Question
16 Mar 2023
Matthew R.

United States
Electric Power Utility
I purchased the Xena Omega EH Safety Boot for use in the field. It was difficult to find another boot that was completely vegan and meets ASTM safety standards. Even though I'm a man, they were a perfect fit when they arrived, and required very little break-in! I only had to order them 2 sizes larger. They're more stylish than other safety boots I was seeing; they fit my wardrobe, my lifestyle, and my feet perfectly. I'm loving my new Xenas!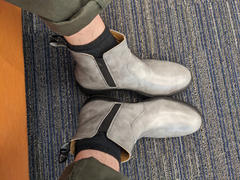 13 Jan 2023
trish K.

United States
BW Papersystems
Great boots! I am normally a 9, and followed the advice to order a half size up, which ended up being too big since I have very narrow feet. The exchange was seamless, and my new - perfectly fitting- boots arrived quickly. They are stiff and breaking in will take a bit of time, but that is because of the quality leather. I have recommended them to my colleagues and other women in manufacturing!
06 Jan 2023
Claire S.

United States
Live Entertainment - Operations/Facilities
I never thought I would find the right footwear for my new job. A shoe that looks nice in a meeting with upper management and clients wearing dress pants and a blouse only to leave and immediately climb a ladder, operate a forklift, or some other labor intensive task? Impossible. This shoe does not exist. I was wrong. Xena is the answer. If you need nice looking work boots and are employed in a trade industry - look no further. I regularly work 12 hour days and walk 6-8 miles in a concrete arena. These boots are functional, comfortable, fashionable, and safe the entire day. I have wide feet and ordered a half size larger to accommodate a mid-thickness boot sock. These boots are more comfortable than any other shoe I've experienced (including cushioned sneakers). I have recommended Xena to all of my female colleagues and friends in the live entertainment industry. I will strongly stand behind a recommendation to you too. I would like to add one small caveat: on a normal day, I come home with no foot pain at all. On an excessively long and intense day (18 hours, 12 concrete miles, 20 flights of stairs), my feet do ache. I can't fault Xena for this, I'm certain any shoe would feel uncomfortable after these long days. Additionally, I've been wearing them every day for a month and they are fully broken in both inside and out. While they still look great, I use a matching shoe cream to combat the scuffs. They are no longer immaculate, they show the hard work I've accomplished. I personally think this commands respect from the old-school plumbers and HVAC techs I periodically interact with, but I digress. Thank you Xena for serving our growing community of hard working professionals who also happen to be women. We are often overlooked and underrepresented. Thank you for seeing us - I know I speak for many who shop here when I say: you've made us proud and we'll return the respect. My second set of Xena work boots (gotta have a pair in black too!) are on the way. Do yourself a favor - stop looking, buy these shoes, support women running small businesses.
05 Jan 2023
Terry N.

United States
Lazer Logistics
This is my second pair of Xena boots, I absolutely LOVE them, and I am definitely going to purchase another pair, so I can have one of every style and color, they fit perfectly and are the most comfortable "work" boots I have ever had! Thank you, Xena, I look forward to my next pair!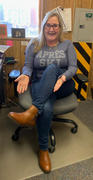 21 Nov 2022
Megan S.

United States
Engineer
These boots are comfortable, attractive and easy to get on and off. They're exactly what I was looking for and I am thrilled! Everyone I've interacted with from Xena has been very responsive and helpful. I would definitely order again. :-)
20 Jul 2022
Sara

United States
Hands down the best women's safety shoe on the market. They are SO COMFORTABLE and cute! I work in manufacturing & take roughly 10-20k steps a day in these shoes and have never once gotten a blister. I will never wear another safety shoe again!