Omega EH Safety Boot
|
This sleek Steel-Toe Work Boot was developed to fit the needs of Professional Women in STEM and the trades. The Omega is available in sizes that will comfortably fit most women (go a 1/2 size larger).
SAFETY
‣ ASTM Certified & OSHA Compliant
‣ Electrical Hazard Certification (18,000 Volts)
‣ Impact & Compression Resistant (I/75 C/75)
‣ Oil & Chemical Resistant Outsole
‣ Slip-Resisting Outsole (Dry & Wet Surfaces)

COMFORT
‣ Lightweight Design
‣ Made for Women by Women
‣ Comfortable Ankle Padding
‣ Impact Absorbing Insole (Antimicrobial)
‣ Breathable Lining (Air-Flow Tech)

STYLE
‣ Beautiful & Flexible Full-Grain Leather
‣ Bourbon Brown Features Natural Scuffs*
‣ Almond Shaped Steel Toe Cap
‣ Premium Zipper (Auto-Lock Tech)
‣ Handcrafted in North America

CONVENIENCE
‣ Free Domestic Shipping
‣ Free 30-Day Exchanges & Returns
‣ Comprehensive 6-Month Warranty

*Exact color may vary slightly from the photos

---
Our beautiful Omega EH model was developed for the needs of women in manufacturing, construction, and other demanding industries. Named for the Greek symbol Ω that measures electrical resistance the boot has an official Electrical Hazard certification (18,000 volts). 
It features a lightweight design that was specifically sculpted to fit a woman's foot. Each pair of Omegas is handcrafted in North America using flexible and LWG certified full-grain leather.
We make fashionable, comfortable, responsibly-made workwear to help professional women express their personality and confidence. Walk seamlessly from the construction site to the office and beyond!
Electrical Hazard Rating

(EH 18,000 Volts)

ASTM F2413-18 Certified

OSHA Compliant

Impact & Compression Resistant

(I/75 C/75 Steel-Toe)

Dual-Density Slip Resisting Outsole

(Dry and Wet Surfaces)

Oil & Chemical Resistant

(ASTM D471)

Lightweight

Design

Breathable Mesh Lining
(Air-Flow Tech)

Impact Absorbing Insole
(Antimicrobial)

Premium Low-Conductivity
Zipper with Auto-Lock Tech

Beautiful & Flexible

Full-Grain Leather

Wide Sizes
Available

Handcrafted In

North America
SIZE GUIDE
• Please refer to our official size guide
SHIPPING OPTIONS
• Free (3-8 business days)
• Express (2-4 business days)
• 2-Day (2 business days)
• Overnight (1 business day)
• International (varies by country)
Note: We ship all orders from Wisconsin, USA on Monday-Friday between 7am-2pm CST. Due to the current COVID-19 health situation, carriers may experience delays and we sadly cannot guarantee their transit times
BREAKING-IN YOUR LEATHER
• The beautiful full-grain leather of your new Xenas can take 3-5 days to break-in as the footbed settles, the leather stretches, and the shoe-padding takes on the shape of your foot
• Please 🙏 avoid wearing your new Xenas outside or at work until you're certain that the size and fit work well for you
• If your feet are feeling comfortably snug then you have a good fit. If you are experiencing uncomfortable tightness after trying them on at home for a bit then we recommend initiating an exchange for a 1/2 size larger
FULL-GRAIN LEATHER CARE
• Wipe your shoes with a damp cloth to remove any dirt and sediment
• Avoid placing your shoes next to a direct heat source as they dry to avoid material damage
• Apply a neutral Shoe Cream to maintain the luster and shine of the full-grain leather
• Use Mink Oil to help waterproof and protect the leather from moisture
SUEDE LEATHER CARE
• Consider applying a stain repellent to prolong the beautiful looks of your Suede Xenas
• Dirt, debris, and scuffs are best removed using a suede cleaning brush
• To get rid of darker stains, try using a regular pencil eraser
• A suede cleaner is another great refurbishment option
XENA SHOE SERVICE
• Your shoes are built to last and we can help to restore the stylish appearance of even heavily worn Xenas by taking them to our fountain of youth
• We've partnered with a professional U.S. cobbler to give you access to our Xena Shoe-Care Service
EXCHANGES & RETURNS
• We believe in providing you with the best customer service which includes worry-free exchanges and returns within a 30-day window after delivery
• Please only wear your new Xenas at home to test the fit, unfortunately, our small team cannot accept used booties that are sent to us with scuffs or dirty outsoles 😔
• To initiate your exchange or return please navigate to our simple Exchange and Return Portal
Customer Reviews
Write a Review
Ask a Question
01/28/2021
Anne H.

United States
SpaceX
These boots are gorgeous and so comfortable! I've worked mainly in heavy manufacturing and have typically been limited to ugly man boots or the industry's attempt at a female safety shoe, most often featuring hot pink stitching. I'm so excited my new Xenas are attractive and professional. Customer service was extremely helpful with sizing - I'm typically a 9.5-10 and based on the suggestions to go up a half size, ordered the 10. However, with the steel toe cap it was just slightly too narrow for the widest part of my foot. Customer service answered my phone call almost immediately and helped me decide if I should go for a 10.5 regular or pre-order the 10W. The 10.5 regular is a perfect fit.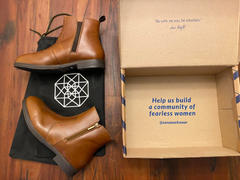 12/06/2020
Julie T.

United States
Nuclear Industry
I LOVE my Xenas! These boots are so comfortable, and I am loving that I don't have to limit my options to too casual or too bulky boots that look like I'm wearing my dad's shoes. While I know I belong in this industry and engineering, now I can have PPE that recognizes that fact too. I've shared Xena with all the women I work with and know in industry. They've all been shocked & excited that such an option exists. Thank you!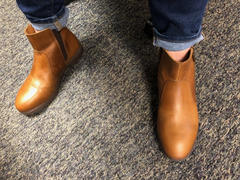 11/17/2020
Vivienne Y.

United States
Environmental Services / LEED Consulting
Thank goodness for stylish and durable workboots! I have been in the construction industry for almost 2 decades and struggled with / juggled multiple pairs of shoes in a day to get from office to client meeting to jobsite. My Xena boots take me through an entire day with no fatigue and they look good enough to wear to a business meeting! I have to keep the supplied safety card with me to hand to safety officers on my jobsites who are convinced they are street shoes! Most awesome is the customer service. I had a minor issue that was resolved quickly and graciously. Regarding sizing, I am usually a 38eu/7.5us shoe but did size up to an 8.5. I have slightly wide feet and wanted to ensure no pinching at the steel toe box. No blisters, no pinching and no significant break-in time. I did wear them at home in the house for a couple hours before wearing them out. Looking forward to my next pair!
09/28/2020
Emily R.

United States
DIYer
I bought these boots at the start of my home reno and ended up wearing them almost every day for about 4 straight months. I just moved in (finally) and climbed a ladder to do some paint touch ups in regular shoes for about 2 hours and now the balls of my feet are killing me. This just made me realize I didn't have foot pain a single time in 4 months of wearing my work boots sometimes 10-12 hours a day so I decided to sit down and write this review. I hung off ladders, smashed plaster (much of which fell on my safe and snug feet), carried loads and loads of over-heavy garbage bags, and who even remembers what else in these boots. To top it all, they still look great (albeit dinged up and in need of another polish). I'm usually a high heels girl, but I love them and they make me feel like a BAMF who might actually know what she's doing. Do yourself a favor and buy them.
09/16/2020
Terri C.

United States
Structural Engineering Consulting
I own a pair of Xena Omegas in Black and also the Gravity model in Black. I split my time approximately 50/50 on my construction sites and in the office. These multi-task well. They look great with my straight leg blue jeans. Don't worry! It does take a few days to break them in. I just ordered the Omega in the Brown and the Vegan Gray. Thanks, great product.
07/26/2020
Alaina O.

United States
Fenner Precision Polymers US
I'm a chemist in a production company and am on my feet all day. I was tired of wearing huge clunky boots that I found in the men's department. The Omega EH safety boots are cute and comfortable and meet all the safety requirements needed for my job - steel toe and slip resistant and then some! They do take a few days to break in and I would recommend doing half a size up. I'm normally a 10 and ended up going with the 10.5! They are super lightweight so you don't even know you're wearing steel toes! The price is worth it!