Gravity 2.0 Safety Shoe
|
‣ Universal Fit with a Wide Toe-Cap
‣ ASTM Certified and OSHA Compliant
‣ Impact & Compression Resistant Steel-Toe
‣ Slip-Resisting (Dry & Wet surfaces)
‣ Oil & Chemical Resistant
‣ Breathable Friction-Resistant Lining
‣ Antimicrobial Insole
‣ Lightweight Design
‣ Made for Women by Women
Go with a 1/2 size larger (this model runs small)
Available as an SD-Rated model
---
We've redesigned our original stylish steel-toe shoes that established a new safety footwear segment for professional women. An ASTM certified and OSHA compliant shoe never looked this beautiful.

Gravity 2.0 features a wide toe-cap and breathable friction-resistant lining for a comfortable universal fit that will accommodate most feet. This shoe has a timeless design that's hand-crafted using full-grain, durable, LWG-certified leather. Walk confidently wherever you go in safety shoes that balance safety with ergonomics and style!
Gravity 2.0 model runs a bit small and we recommend going a 1/2 size-up. If you need the static dissipative feature, then take a look at our Gravity SD-Rated model.
ASTM F2413-18 Certified

OSHA Compliant

Impact & Compression Resistant

(I/75 C/75 Steel-Toe)

Slip Resisting Outsole

(Dry and Wet Surfaces)

Oil & Chemical Resistant

(ASTM D471)

Lightweight

Design

Breathable Friction-Resistant Lining

Antimicrobial Insole

 

Heel Height ~2"

(OSHA, ANSI, ASTM, CSA)

Durable & LWG Certified

Full-Grain Leather

Handcrafted In
North America
SIZE GUIDE
Please refer to our official size guide to help place your order. All Xena safety shoes feature a universal fit that comfortably accommodates most women who have slender, regular, and even wide feet. Short-form summary of the guide is also listed below:
• Gravity 2.0 – 1/2 size small. We recommend ordering your Gravity shoe a 1/2 size larger than what you normally wear
• Gravity SD-Rated – 1/2 size small. We recommend ordering your Gravity shoe a 1/2 size larger than what you normally wear
• Omega EH-Rated – True-to-Size. Please order your correct size, but if you're in between sizes we recommend getting the larger one

SHIPPING OPTIONS
• Free (3-8 business days)
• Express (2-5 business days)
• 2-Day (2 business days)
• Overnight (1 business day)
• International (available)
We ship all orders Monday-Friday between 7am-3pm CST. Placing an order after 3pm CST may push your shipment to the next business day.

BREAKING-IN YOUR LEATHER
The beautiful full-grain leather of your new Xenas takes 3-5 days to break-in as the footbed sinks a bit and the shoe-padding takes on the shape of your foot. Please 🙏 wear your new shoes at home and avoid taking them to work until you're certain that the size and fit works well. If your fit still doesn't feel great please contact us right away at info@xenaworkwear.com or 414-367-8224 and we'll help.

EXCHANGES & RETURNS
We believe in providing you with the best customer service which includes worry-free exchanges and returns. Please break-in your Xenas at home to help to make sure they aren't used. Unfortunately, our small team cannot salvage used booties with scuffs or dirty outsoles 😔. To initiate your exchange or return please contact us at info@xenaworkwear.com or 414-367-8224 and we'll help you right away!

SELF-CARE TIPS
• Wipe your shoes with a damp cloth to remove any dirt and sediment
• Apply a neutral shoe cream to maintain the luster and shine of the beautiful Liverpool leather
• Proper shoe cream can also waterproof your beautiful shoes and protect the leather from prolonged exposure to moisture, here's our favorite
Customer Reviews
Write a Review
Ask a Question
03/26/2020
Amanda R.
United States
Miller Electric Mfg
One of the goals of the founder of Xena is to inspire young women to enter the STEM fields. I let my aspiring young chemist unbox my new pair of Xena's. She was as excited as I was!! She wears her own PPE when we do projects, so she understands how exciting this is!!! I needed to get mine a size bigger and the exchange process was very smooth. They gave me good instructions and helped me get the correct size. These are so awesome!!!! And even ESD rated so that I don't need a heel strap when I'm working with electronics. I often see women in the office who have safety shoes under their desk but they never wear them because they don't want to change shoes just to quick run out in the plant. I am totally going to show these babies off and help them see that being safe and being stylish are not mutually exclusive. And I know they're all going to want to have a pair too! Going to be breaking mine in as I work from home this week. Love these!!!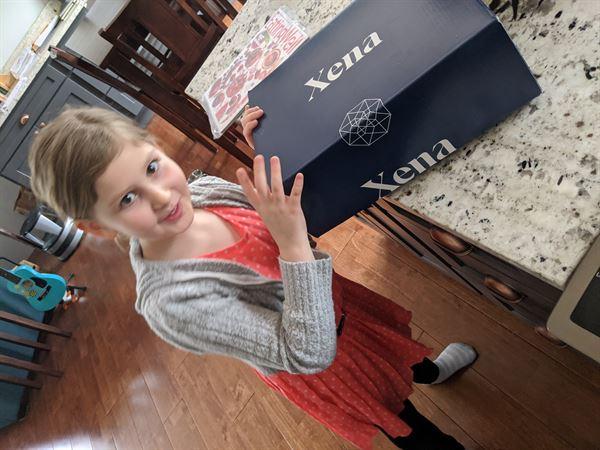 03/22/2020
Rebecca L.
United States
Johnson Controls
These are the shoes I've been looking for! As a project manager, these are perfect for on-site construction meetings, walk throughs, warehouse work, and everyday PPE wear. Stylish, comfortable & perfectly designed! THANK YOU!!
03/11/2020
Linda W.
United States
Chart Industries
My Gravity 2.0 boots are amazing, stylish, and comfortable. I LOVE them!! I searched dozens of websites and did not find a style that I liked. The customer care is awesome! My first pair did not fit properly. The staff at Xena listened to my concern and suggested a different size. I received my replacement boots in a very short time and the fit was perfect.
03/09/2020
Allison R.
United States
GE Healthcare
While I'm very pleased with the style of the shoe, I was shocked and pleasantly surprised by how comfortable it is too! There's a little bit of a break in period, but so far I'm very happy with the shoes!
03/09/2020
Sheryl G.
United States
Sunbelt Rentals
Loving my new Gravity steel toe boots! I've been working in the construction industry for almost 8 years and thanks to Xena I finally have cute steel toe boots!!