Fusion Mt Safety Boot
|
We engineered the first stylish Metatarsal Steel-Toe to meet requests of women in heavy industries. This ASTM Certified and OSHA Compliant safety boot features an innovative design with an internal met guard made out of soft open-cell foam that instantly hardens upon impact to form a protective shield. Each pair is handcrafted in North America using beautiful full-grain & suede leather. Fusion looks so good and feels so comfortable, that you'll want to wear it everywhere.
ASTM Certified
OSHA Compliant
Internal Metatarsal
Guard (Mt 75)

Impact Protective




Steel-Toe Cap

Free Domestic
Shipping

Extended Holiday




Return Window

6-Month
Xena Warranty
womens steel toe boots
work shoes for women
steel toe boots for women
women's work boots
womens steel toe shoes
steel toed steeltoe safety shoes for women by women
SAFETY
‣ ASTM Certified (F2413-18) & OSHA Compliant
‣ Internal Metatarsal Metguard (Mt 75)
‣ Impact & Compression Resistant (I/75 C/75)
‣ Oil & Chemical Resistant Outsole (D471)
‣ Dual-Density Slip Resisting Outsole (Dry & Wet Surfaces)*

COMFORT
‣ Lightweight & Flexible Design
‣ Engineered for Women by Women
‣ Comfortable Ankle Padding
‣ Impact Absorbing Insole (Antimicrobial)
‣ Breathable Mesh Lining (Air-Flow Tech)
‣ Available in Wide Sizes

STYLE
‣ World's First Stylish Metatarsal Safety Boot
‣ Full-Grain & Matte Suede Leather (LWG Certified)
‣ Stunning Midnight Black Appearance
‣ Premium Buckle
‣ Durable YKK Blackout Zipper
‣ Handcrafted in North America

CONVENIENCE
‣ Free Domestic Shipping
‣ Extended Holiday Returns (until Jan 31)
‣ Extended Holiday Exchanges (until Jan 31)
‣ Premium 6-Month Xena Warranty
‣ International & Expedited Shipping Options

*Not Rated for Oily Environments

Customer Reviews
Write a Review
Ask a Question
30 Oct 2022
Jennifer M.

United States
CATERPILLAR
I get asked all the time if my boots are "real" work boots. It's so funny because it's gotten to the point where I have to let them know my husband (who is also needs this type) picked them out. I get told they look like regular boots so often that I keep my web receipt handy. We need the steel toe as well as the metatarsal guard and they just can't believe how cute and "normal" looking they are. My next response is usually, "I bet they cost a lot of money.". While they are a little more, they are worth every penny. They are COMFORTABLE! I can honestly say that I will definitely be looking to Xena when these need to be replaced. I am also happy to support a small business.
01 Oct 2022
Becky S.

United States
Lab Technician 1
I love my new Fusion My Safety Boots! They are very comfortable and took little time to break in. Will definitely be ordering more boots in the future.
01 Sep 2022
Caitlyn S.

United States
Defense
Totally worth every penny. I've never worn more comfortable safety shoes AND they're so stylish that I could just wear them to the office too! I'm in the office a lot of times but occasionally go to naval shipyards and do a lot of walking and these shoes are perfect for that. Also listen when they say to size up a half size. Mine are perfect.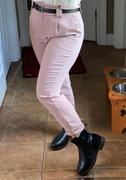 19 Jul 2022
Robyn B.

United States
Schaefer Equipment Wabtec
Love them best work shoe for women in heavy Mfg
15 Jun 2022
gloria n.

United States
Industrial Electrical Contractor
I am so happy to support a Woman Owned Business, especially one that knows what other women like to wear in this industry. I purchased these boots and am so happy that I did because they are a great investment. These boots will last me years. They are well made and are comfortable to wear. Thank you, Xena for making a great pair of safety boots!
24 May 2022
Lauren I.

United States
Foundry
These are lightweight, comfortable, and meet my company's safety requirements. The metatarsal guard does not dig in like many other companies boots do. The leather is stylish and doesn't scuff easily. I am glad I sized up and went for a wide fit because they are slightly smaller and narrow than I'd expect.