The Everywhere Blazer
|
The Everywhere Blazer combines the high-functionality of a utility jacket with the stylish looks of a professional blazer. It's the
perfect piece
for women on the move who want to feel confident in any setting.
‣ Proudly Handcrafted in the USA (Midwest)
‣ Business Casual (single-breasted, one button, shawl lapel)
‣ Flexible Stretch Fabric (extended range of motion & comfortable fit)
‣ Versatile Sleeves (easy to roll-up)
‣ Two Exterior Pockets (badge loop)
‣ Two Interior Pockets (secure YKK zipper, lightweight clasp, deep storage pocket for passport, phone, or notebook)
‣ Primarily Made of Natural Rayon Fibers for an Ultra-Soft Feel with added Nylon and Lycra for Durability & Stretch
‣ Machine Washable
‣ Designed for Women by Women
‣ Free Shipping on all Domestic Orders
‣ 30-Days for Exchanges & Returns (Free Shipping)
‣ Comprehensive 90-Day Workwear Warranty
---
The Everywhere Blazer combines high functionality of a utility jacket with stylish looks of a professional blazer to help you feel confident in any setting. Its business casual design and purposeful features make it perfect for client meetings, facility walkthroughs, construction visits, extended travel, going out, and everything in between.
We proudly handcraft The Everywhere Blazer in the United States (Midwest) using an ultra-soft stretch fabric that provides an extended range of movement and a comfortable fit.

You will discover four highly functional interior and exterior pockets that feature an integrated badge loop, a premium YKK zipper, and plenty of depth to accommodate a phone, safety glasses, earplugs, or even a small notebook.

One of our favorite features is an innovative zipper pocket with a lightweight clasp that securely holds your jewelry which are not permitted in most production facilities. The Everywhere Blazer is also machine washable and has sleeves that can be easily rolled-up.

We make fashionable, comfortable, responsibly-made workwear to help professional women express their personality and confidence. Walk seamlessly from client meetings to the facility floor and beyond!


Flexible Stretch Fabric

(Extra Range of Motion)

Ultra-Soft & Durable
Fibers

Business Casual

(Sleek & Relaxed Fit)

Single-Breasted Design
With a Shawl Lapel

Versatile Sleeves

Roll-Up Easily

2 Exterior Pockets
(Regular Depth)

2 Interior Pockets
(Extended Depth)

Secure YKK
Zipper Pocket

Lightweight Clasp

(Stores Jewelry)

Premium Button
(Sourced from Italy)

Partial Water Repellant Properties

Machine Washable

(Rayon | Nylon | Lycra)

Handcrafted in the USA
(Proudly from Midwest)
SIZE GUIDE
Please refer to our official size guide to help place your order
SHIPPING OPTIONS
• Free (3-8 business days)
• Express (2-5 business days)
• 2-Day (2 business days)
• Overnight (1 business day)
• International (varies by country)
We ship all orders Monday-Friday between 7am-2pm CST
FABRIC CARE
The Everywhere Blazer is machine washable and does not have to be dry cleaned. For best results, machine wash cold with similar colors. Please keep in mind that the beautiful fabric does NOT like to be bleached. To get the initial moisture out, we suggest tumbling dry low and then laying the blazer flat to dry. If your need to iron the blazer, we suggest to turn it inside out and use low heat
EXCHANGES & RETURNS
We believe in providing you with the best customer service which includes worry-free returns on blazers that are sent back to us in new condition within 30 days after delivery. Unfortunately, our small team cannot accept returned blazers that have been worn, stained, washed, or sent back 30 days after delivery. To initiate your exchange or return please navigate to our Exchange and Return Portal and we'll help you right away
WORKWEAR WARRANTY
Your beautiful Blazer is protected by our Xena Workwear Warranty for 90 days from the time of delivery against any defects in material or workmanship. The warranty does not cover damage caused by accidents, improper care, negligence, normal wear and tear, or the natural breakdown of colors and material through time, exposure or extensive use
Customer Reviews
Write a Review
Ask a Question
10/14/2020
Molly J.
United States
I am in LOVE with this blazer. I have always disliked traditional blazers as they are stiff, not easy to work in, and zero pockets! This blazer is the complete opposite!! It moves with you, it stretches and most importantly it has ALL the pockets you will need for your phone/PPE..you name it there is a pocket for it! This is a MUST in any women's closet!
10/13/2020
Laura C.
United States
Pharma Manufacturing
I love this blazer. I have a lot of blazers because I participate in audits often (pre-COVID) but this is definitely going to be my favourite and absolute go to for audit days and any day I want to look professional and feel comfortable. The pockets (first off it has pockets!) are better than expected. They are large and roomy but do not add bulk to the jacket. I love the jewelry catch; I am not allowed to wear jewelry in the plant, and I often find that I have forgotten to take off my wedding rings when I'm out of the floor, so it's nice to be able to securely put them away instead of having to go back to my office to put them away because none of my clothes have pocket. The material is really nice, it is not stiff, but it's also not like a sweat pant material, so I'm happy Xena found a great middle ground fabric wise and I hope it keeps up. I am 5'2" 110lbs 34" bust and ordered a small- the blazer goes just past my bum and hits at a very flattering length for me. Thank you so much! I can't wait to see what else you all come up with next!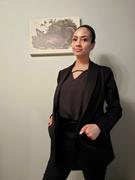 10/13/2020
Abby F.
United States
I'm in LOVE with this blazer and ordering another ASAP. I used to think I wasn't a "blazer person," but this blazer has proved me wrong - I just never had the right blazer. Thank you to Ana and the Xena team for identifying a problem, and solving it with function and fashion. You get it, you get us! :)