Gravity Vegan Safety Shoe
|
This effortlessly stylish steel-toe shoe is made using high-performance vegan leather that replicates the beautiful aesthetics of natural leather at a microscopic level while staying resistant to water, chemicals, abrasion, tearing, tension, flexion, and perspiration. An ASTM certified and OSHA compliant safety shoe never looked this beautiful. Each pair is handcrafted in North America, featuring a functional heel and timeless design that is both comfortable and confident. --order 1/2 size up for best fit--
ASTM Certified
OSHA Compliant
Durable Waterproof
Vegan Leather

Impact Protective




Steel-Toe Cap

Free Domestic
Shipping
30-Day Returns
& Exchanges
6-Month Footwear
Warranty
GRAVITY VEGAN FEATURES
Engineered for professional women in demanding manufacturing environments, the Gravity Vegan Safety Shoe balances safety with ergonomics in a timeless design:
SAFETY
‣ ASTM Certified (F2413-18) & OSHA Compliant
‣ Impact & Compression Resistant (I/75 C/75)
‣ Oil & Chemical Resistant Outsole (D471)
‣ Slip Resisting Outsole (Dry & Wet Surfaces)
‣ Durable & Waterproof Vegan Leather
COMFORT
‣ Made for Women by Women
‣ Comfortable Ankle Padding
‣ Breathable Mesh Lining (Air-Flow Tech)
‣ Impact Absorbing Insole (Antimicrobial)
‣ Wide Sizes Available
STYLE
‣ Beautiful Blackout Design
‣ Almond Shaped Steel-Toe Cap
‣ Premium YKK Zipper
‣ Handcrafted in North America
CONVENIENCE
‣ Free U.S. Shipping
‣ International Shipping Available
‣ Free 30-Day Exchanges & Returns
‣ Comprehensive 6-Month Footwear Warranty
Customer Reviews
Write a Review
Ask a Question
11 Mar 2021
Julissa M.

United States
AJAQ Plumbing Design and Consultants llc
The shoes are spot on, I ordered them a 1/2 size bigger due to the heel. This is my second pair of shoes and will be the only professional/ workwear shoes I order through Xena! Comfort, style and completes the look of the many hats I wear on a daily basis! Thank you from South Texas!
09 Mar 2021
Iana Y.

United States
Aviation manufacturing
I am an operations manager for an aircraft manufacturer. I need a comfortable, stylish shoe that works for hours on a concrete floor but can also pair well with business attire for meetings and hosting visitors. This is my second pair of Xenas and they are amazing! I had to have the blackout version. :) I wear a size 7.5-8 in a boot and got 8.5 for my Xenas. I had to break in my first pair (worth it) but wore these immediately with no issues. I did add a work shoe gel insert for extra support and the fit is perfect. Most of my team wear Xenas and love them :) I highly recommend these!
21 Jul 2021
Shirley B.

United States
Marriott Hotel
These shoes are great! I love the fact that they're stylish and safety shoes. I have been looking for something just like this. I'm normally a size 9.5 and got the 10 since Xena suggested a .5 size bigger. I'm glad I did. They are also light weight and not to high on the heel. I might be getting a another pair but a different style of course.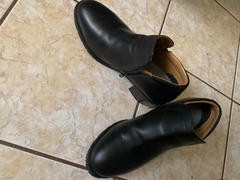 19 Jul 2021
Larry L.

United States
Starting UCBerkeley School of Chemistry PhD in August
I haven't worn them other than to see if they fit. They do, perfectly. Thank you. I'm excited to see how the feel after a few weeks in the lab!
15 Jul 2021
Dana C.

United States
Beverage Manufacturing
Perfect for the floor when you are running a line, to the meeting in the boardroom, to dinner. Comfortable enough to wear all day.
12 Jul 2021
Mariana G.

United States
Attorney
My Xenas have been great for all aspects of work! From days in the office to vehicle inspections, they are incredibly versatile. They were even comfortable during the breaking in process (which is not something I can say about any other footwear). I love my new shoes and plan to keep coming back for more!