Gravity SD-Rated Safety Shoe
|
Electrostatic Dissipative Certification (SD/ESD)
And all great features of the Gravity 2.0 model

‣ Universal Fit with a Wide Toe-Cap
‣ ASTM Certified and OSHA Compliant
‣ Impact & Compression Resistant Steel-Toe
‣ Slip-Resisting (Dry & Wet surfaces)
‣ Oil & Chemical Resistant
‣ Breathable Friction-Resistant Lining
‣ Antimicrobial Insole
‣ Lightweight Design
‣ Made for Women by Women

Go with a 1/2 size larger (this model runs small)
If you don't need SD feature, consider Gravity 2.0
---
This stylish steel-toe shoe has the gorgeous looks and great features of the Gravity 2.0 with special outsole and lining that gives this model an official Static Dissipative Rating (SD/ESD).
Get ready to fall in love with Gravity's light and comfortable design that transitions seamlessly from the client meeting to the job site and beyond. Walk confidently wherever you go in SD-rated safety shoes that balance safety with ergonomics and style!

Gravity SD-Rated model runs a bit small so we recommend going a 1/2 size-up. If you do not need the static dissipative feature, then consider our Gravity 2.0 model.
Electrostatic Dissipative Rating

(SD / ESD)

ASTM F2413-18 Certified


OSHA Compliant

Impact & Compression Resistant

(I/75 C/75 Steel-Toe)

Slip Resisting Outsole

(Dry and Wet Surfaces)

Oil & Chemical Resistant

(ASTM D471)

Lightweight

Design

Breathable Friction-Resistant Lining

Antimicrobial Insole

 

Heel Height ~2"

(OSHA, ANSI, ASTM, CSA)

LWG Certified

Full-Grain Leather

Handcrafted In
North America
SIZE GUIDE
Gravity 2.0 – 1/2 size small. We recommend ordering your Gravity shoe a 1/2 size larger than what you normally wear
Gravity SD-Rated – 1/2 size small. We recommend ordering your Gravity shoe a 1/2 size larger than what you normally wear
Omega EH-Rated – True-to-Size. If you're in between sizes we recommend ordering the larger size

SHIPPING OPTIONS
Free – 3-8 business days
Ground – 1-5 business days
Express – 2 business days
Overnight – 1 business day
International – available standard shipping
*Pre-Orders are unique and your delivery times will vary

BREAKING-IN YOUR LEATHER
Our beautiful full-grain leather takes 3-5 days to break-in. Please avoid taking your Xenas to work until then. We recommend wearing them around the house for 2+ hours each day for the shoes to really mold to your foot. Initial discomfort will likely go away within the 3-5 day break-in period as the footbed sinks a bit and the shoe-padding takes on the shape of your foot. If the discomfort is more than mild then that means you probably need a 1/2 size larger! Simply email us at info@xenaworkwear.com and we'll help you right away 😊

EXCHANGES & RETURNS
We believe in providing you with the best customer service which includes worry-free exchanges and returns. Please break-in your Xenas at home to help to make sure they aren't harshly used. To initiate an exchange or return simply email us at info@xenaworkwear.com

XENA SELF-CARE
Make sure to clean your shoes of any dirt or other sediment before it dries. Apply a Shoe Cream to maintain the luster and shine of your Xenas. Our Liverpool leather is not 100% water resistant and if you find yourself regularly coming in contact with liquids we recommend to protect your shoes with a waterproofing spray or Mink Oil.
Customer Reviews
Write a Review
Ask a Question
02/19/2020
Morgan H.
United States
O'Reilly Auto Parts
I cannot sing the praises of these boots enough, first pair but will not be the last, they feel like my well worn Dr. Scholl's on the first wear!
Perfect Work Shoe for Women! My experience has been amazing with Xena. I found them through a LinkedIn article and living near Milwaukee wanted to support a local team. I ordered the Gravity+SD boots but didn't size up because I'm an 11 and I was worried 12 may be too big. The 11's were small as stated so I asked to exchange for a 12. I had a work trip coming up and the customer team worked with me to expedite the larger size. Such a great group of people and I got the shoes. I love the look and how comfortable they are. I am beyond happy and hope all my female engineer friends purchase a pair themselves at some point. Currently writing this at the airport with my Xena's on!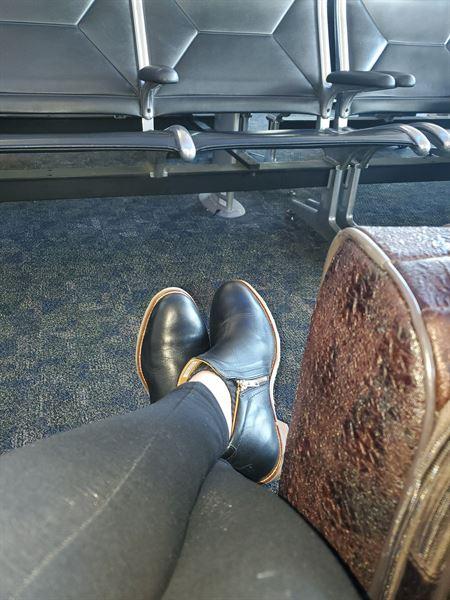 GKN Aerospace
Thoroughly impressed! An alluring and professional steel toe that meets industry standard available for women! A stand alone in its field. For shoes size - I needed a full shoe size larger. For comfort - other than personal required arch supports - have been able to wear these boots since day one for 11 -14 hour days without a single irritation or blister!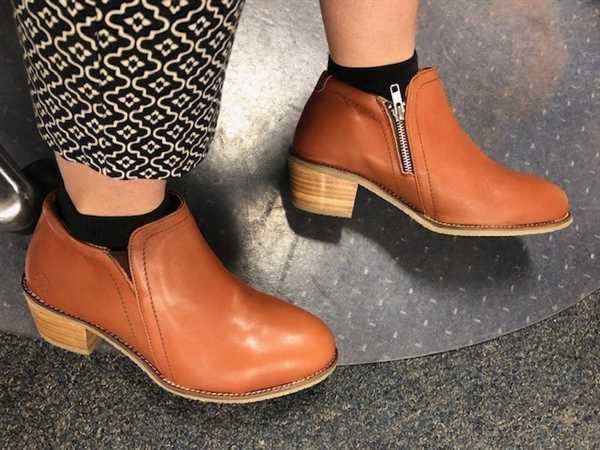 Absolutely Smitten! My factory job requires me to have protective footwear ( steel toed boots). I wasn't happy with what was out there on the market for women. I wanted something a little more stylish and spiffy in case I wanted to wear the shoes offsite. These boots are fabulous!!! I have received so many compliments on them. My supervisor even questioned the validity of them the first day and I was happy to provide her with the certificate of authenticity! I love that Xena thought to include this!! I am normally a size 9.5-10 and I ordered a 10. This is fine for me with a thin sock. If I wanted to wear thicker socks, I might have needed to size up to a 10.5, I'm very happy with the way the boots have broken in so far. The leather is top quality and they have stretched slightly over the last week and that has helped. I'm fully satisfied and look forward to wearing them to work! The non slip bottom is pretty amazing too, especially on wet streets! I will definitely be ordering again!
Amazing shoes, amazing brand, amazing customer team!!!