Spice Safety Boot
|
We handcrafted just 100 pairs of Vegan Cloud Nine edition. This limited style of our Spice work boot was engineered using high-performance waterproof material that replicates rich and durable characteristics of leather at a microscopic level. You'll love the deep grey aesthetics of Vegan Cloud Nine. Don't miss out on this unforgettable release!
ASTM Certified
OSHA Compliant
Impact Protective
Steel-Toe Cap

Easy On-Off




YKK Zipper

Free Domestic
Shipping

30-Day Returns




& Exchanges

6-Month
Xena Warranty
womens steel toe boots
work shoes for women
steel toe boots for women
women's work boots
womens steel toe shoes
steel toed steeltoe safety shoes for women by women


SAFETY
‣ ASTM Certified (F2413-18) & OSHA Compliant
‣ Impact & Compression Resistant (I/75 C/75)
‣ Oil & Chemical Resistant Outsole (D471)
‣ Triple-Braided Laces (Snug Fit & Ankle Stability)
‣ 6" Shaft Height (Enhanced Ankle Stability)
‣ Dual-Density Slip Resisting Outsole (Dry & Wet Surfaces)*

COMFORT
‣ Engineered for Women (Built on a Woman's Last)
‣ Lightweight Design
‣ YKK Zipper (Easy On - Easy Off)
‣ Angled Zipper Designed for High Instep Access
‣ Impact Absorbing & Odorless Insole (Antimicrobial)
‣ Breathable Mesh Lining (Air-Flow Tech)
‣ Available in Wide Sizes

STYLE
‣ Combat Safety Boot Design
‣ Jet Black Genuine Leather (Flexible, Breathable, LWG Certified)
‣ Mystic Dune Genuine Leather (Flexible, Breathable, LWG Certified)
‣ Cloud Nine Vegan Leather (Waterproof, Durable, Breathable)
‣ Brushed Nickel & Rustic Bronze Hardware
‣ Handcrafted in North America

CONVENIENCE
‣ Free Domestic Shipping
‣ Simple Exchanges (30-Days)
‣ Worry-Free Returns (30-Days)
‣ Premium Xena Warranty (6-Months)
‣ International & Expedited Shipping Options

*Not Rated for Oily Environments

Customer Reviews
Write a Review
Ask a Question
14 Jan 2023
Jennifer A.

United States
Construction volunteer
These boots are amazing. I have really bad, flat feet. I have worn these boots everyday since I got them, and I've had ZERO back pain, which is huge for me. I've gotten tons of comments regarding how nice they are no one believes they're work boots! These were my second pair since the first pair I ordered weren't a good fit. That being said customer service is phenomenal. The rep not only helped me with the return process but he also helped me get the right boot in the right size. I think that the overall experience and product make these boots an excellent investment. I'd buy them again in a heart beat. No complaints. I wanted boots that looked feminine but functioned as a great work boot. This ticked both boxes.
13 Jan 2023
Emily J.

United States
American Concrete Concepts Inc
I absolutely ADORE my Xenas! This style coordinates with all of my gear, and I always get compliments on them on job sites. Wildly comfortable too!
12 Jan 2023
Antonia r.

United States
Volunteer work
Most comfortable work shoes I've ever had. I bought them to take to maintenance sites and they have been comfortable to wear 8 hours straight. They're so cute and comfortable that I've been wearing them outside of the "work area". Solidly crafted. I like the lace up look & love that i don't have to actually lace them up. It's neat to support an independent women owned business.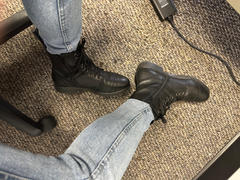 11 Jan 2023
Heidi P.

United States
Funeral Home and Crematory
I love the Spice boot! It's so well-made, protective, and they look great!
05 Jan 2023
Julia L.

United States
Theater Stagehand
I am very pleased by these boots. They look great and the fit is better than expected with the steel toe which I've had issues with in the past. The leather is beautiful and it only took a couple of wears for them to feel like I've had them for years. My wife is also constantly stealing them so I'll be ordering another pair real soon.
15 Dec 2022
Angela V.

United States
Brewing
These boots were made for walking!!!! These boots are not only stylish but extremely comfortable, I pair them with the blazer (also from Xena) and makes a GREAT OUTFIT. Super easy to clean and complies with any requirement! LOVE THEM. I am normally an 8.5US but ordered a 9US and the fit is perfect!