Gravity ESD Safety Shoe
|
This stylish Steel-Toe Work Bootie introduced a new segment of safety footwear for women and now comes with the Electrostatic Dissipative Certification. The Gravity ESD is available in sizes that will comfortably accommodate most women looking for a regular or narrow fit (go a 1/2 size larger).
SAFETY
‣ ASTM Certified & OSHA Compliant
‣ Electrostatic Dissipative (ESD / SD 30)
‣ Impact & Compression Resistant (I/75 C/75)
‣ Oil & Chemical Resistant Outsole
‣ Slip-Resisting Outsole (Dry & Wet Surfaces)

COMFORT
‣ Lightweight Design
‣ Made for Women by Women
‣ Comfortable Ankle Padding
‣ Impact Absorbing Insole (Antimicrobial)
‣ Breathable Lining (Air-Flow Tech)

STYLE
‣ Beautiful & Flexible Full-Grain Leather
‣ Almond Shaped Steel Toe Cap
‣ Premium YKK Zipper
‣ Handcrafted in North America

CONVENIENCE
‣ Free Domestic Shipping
‣ Free 30-Day Exchanges & Returns
‣ Comprehensive 6-Month Warranty
---
This stylish steel-toe shoe has the gorgeous looks and great features of the Gravity style with special outsole and lining that gives this model an official Static Dissipative Rating. We recommend using 100% cotton socks for best work performance.
Get ready to fall in love with Gravity's comfortable design that transitions seamlessly from the client meeting to the job site and beyond. Walk confidently wherever you go in safety shoes that balance safety with ergonomics and style!


Electrostatic Dissipative Rating

(ESD / SD 30)

ASTM F2413-18 Certified

OSHA Compliant

Impact & Compression Resistant

(I/75 C/75)

Slip Resisting Outsole

(Dry and Wet Surfaces)

Oil & Chemical Resistant

(ASTM D471)

Breathable Mesh Lining

With Antimicrobial Insole

Impact Absorbing
Insole (Anti-Fatigue)

Beautiful & Flexible

Full-Grain Leather

Handcrafted In

North America
SIZE GUIDE
• Please refer to our official size guide
SHIPPING OPTIONS
• Free (3-8 business days)
• Express (2-4 business days)
• 2-Day (2 business days)
• Overnight (1 business day)
• International (varies by country)
Note: We ship all orders from Wisconsin, USA on Monday-Friday between 7am-2pm CST. Due to the current COVID-19 health situation, carriers may experience delays and we sadly cannot guarantee their transit times
BREAKING-IN YOUR LEATHER
• The beautiful full-grain leather of your new Xenas can take 3-5 days to break-in as the footbed settles, the leather stretches, and the shoe-padding takes on the shape of your foot
• Please 🙏 avoid wearing your new Xenas outside or at work until you're certain that the size and fit work well for you
• If your feet are feeling comfortably snug then you have a good fit. If you are experiencing uncomfortable tightness after trying them on at home for a bit then we recommend initiating an exchange for a 1/2 size larger
FULL-GRAIN LEATHER CARE
• Wipe your shoes with a damp cloth to remove any dirt and sediment
• Avoid placing your shoes next to a direct heat source as they dry to avoid material damage
• Apply a neutral Shoe Cream to maintain the luster and shine of the full-grain leather
• Use Mink Oil to help waterproof and protect the leather from moisture
SUEDE LEATHER CARE
• Consider applying a stain repellent to prolong the beautiful looks of your Suede Xenas
• Dirt, debris, and scuffs are best removed using a suede cleaning brush
• To get rid of darker stains, try using a regular pencil eraser
• A suede cleaner is another great refurbishment option
XENA SHOE SERVICE
• Your shoes are built to last and we can help to restore the stylish appearance of even heavily worn Xenas by taking them to our fountain of youth
• We've partnered with a professional U.S. cobbler to give you access to our Xena Shoe-Care Service
EXCHANGES & RETURNS
• We believe in providing you with the best customer service which includes worry-free exchanges and returns within a 30-day window after delivery
• Please only wear your new Xenas at home to test the fit, unfortunately, our small team cannot accept used booties that are sent to us with scuffs or dirty outsoles 😔
• To initiate your exchange or return please navigate to our simple Exchange and Return Portal
Customer Reviews
Write a Review
Ask a Question
12/03/2020
Claire D.

United States
Northrop Grumman Corporation
Love these shoes! I work in Circuit Card Manufacturing so ESD is a must and these shoes are both extremely functional and fashionable, along with me always feeling confident when I walk onto the manufacturing floor.
07/11/2020
Ceara S.

United States
GE Healthcare
These safety shoes are the best fitting and comfiest I have ever been able to find for my petite feet. Not only do they check all of my functional needs on the manufacturing floor, but they're cute enough to wear in meetings. I love having one pair of shoes for the workday without sacrificing professional appearance or comfort!
06/23/2020
Nerma D.

United States
Automated/Industrial Machinery
These are the cutest boots ever. You can tell they're super quality! They were even pretty comfy wearing them for the first time. Even the guys at work were asking me where I bought them and if there were guy versions lol!!! Love them so much.
06/09/2020
Carolina T.

United States
Electric Forklifts / Owner
The shoes are very well made, you can see and feel the quality. I live in south Florida and was concerned about how hot and sweaty my feet will feel after a 95 degree workday, I have to say I'm pleasantly surprised that this is not the case. I've been looking for feminine steel toe shoes for over 15 years and I'm happy to say I've found them! I'll be buying more colors and styles in the future. Thank you!
04/16/2020
Stacey D.

United States
Tastepoint
The Gravity shoe is by far the best looking safety shoe on the market. I have purchased at least 5 different brands and several different styles of steel toes over the years and they all have one thing in common, they look terrible with office attire. If you work in a plant/ manufacturing setting and also in the office, then the Xena Gravity shoes are an excellent choice compared to the clunky and unattractive options out there. I have had them on since I received them and they feel great. Definitely follow the recommendation of going up a half size. I've got the black and I will be getting the brown soon! Thanks Xena :)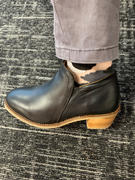 Georgia-Pacific
I absolutely love the shoes and cannot say enough great things about them! The shoes are extremely comfortable and very versatile. Definitely recommend ordering the Gravity a 1/2 size up. As a leader with office and plant floor responsibilities, it has been awesome to find shoes that go with any outfit and add a sense of style to my day!