Fusion Mt Safety Boot
|
Fusion Mt is the world's first stylish Metatarsal steel-toe safety boot. Its innovative design features an internal met-guard made out of flexible open-cell foam that hardens upon sudden impact. Each boot is handcrafted using beautiful full-grain and matte suede leather. The Fusion is available in sizes that will comfortably fit most women (go a 1/2 size larger).

SAFETY
‣ ASTM Certified & OSHA Compliant
‣ Internal Metatarsal Guard (ASTM Mt 75)
‣ Impact & Compression Resistant (I/75 C/75)
‣ Oil & Chemical Resistant Outsole
‣ Slip-Resisting Outsole (Dry & Wet Surfaces)

COMFORT
‣ Lightweight & Flexible
‣ Designed for Women by Women
‣ Comfortable Ankle Padding
‣ Breathable Lining (Air-Flow Tech)
‣ Impact Absorbing Insole (Antimicrobial)

STYLE
‣ LWG Certified Full-Grain Leather
‣ Matte Suede Leather
‣ Almond Shaped Steel Toe Cap
‣ Durable YKK Zipper
‣ Premium Decorative Buckle
‣ Midnight Black Expression
‣ Handcrafted in North America

CONVENIENCE
‣ Free Domestic Shipping
‣ Free 30-Day Exchanges & Returns
‣ Comprehensive 6-Month Warranty

---
If you think that traditional steel-toes look bulky and offer a poor fit for women, then you should see the limited options in the Metatarsal segment. A quick search reveals the extent of the problem facing professional women who need to wear safety shoes with Mt protection. After receiving many requests for change, we decided to do something about it.
The development process was daunting. It is relatively easy to slap an armor plate on top of a boot, but how on earth do you incorporate a met guard with a protective toe cap into a sleek design that doesn't make the boot heavy, bulky, and uncomfortable? After over a year of secrecy we are proud to bring it to life.

The Fusion Mt Safety Boot features an innovative design with an Internal Metatarsal Guard (ASTM Mt 75) that is integrated with the steel-toe cap. The met guard is made out of an open-cell foam material that stays soft and flexible at rest but will instantly harden to form a protective shield when exposed to sudden impact.

Our stunning Midnight Black style uses beautiful LWG certified full-grain and matte suede leather. The decorative buckle and blackout YKK zipper compliment its fashionable aesthetic. The Fusion Mt Safety Boot looks so good and feels so comfortable, that you'll want to wear it everywhere!


ASTM Certified (F2413-18)

OSHA Compliant

Internal Metatarsal Guard

(ASTM Mt 75)

Impact & Compression Resistant

(I/75 C/75 Steel-Toe)

Dual-Density Slip Resisting Outsole

(Dry and Wet Surfaces)

Oil & Chemical Resistant

(ASTM D471)

Lightweight & Flexible Design

For Women by Women

Breathable Mesh Lining
(Air-Flow Tech)

Impact Absorbing Insole
(Antimicrobial)

LWG Certified Full-Grain &

Beautiful Suede Leather

Premium & Durable
YKK Zipper

Wide Sizes
Available

Handcrafted In

North America
SIZE GUIDE
• Please refer to our official size guide
SHIPPING OPTIONS
• Free (3-8 business days)
• Express (2-4 business days)
• 2-Day (2 business days)
• Overnight (1 business day)
• International (varies by country)
Note: We ship all orders from Wisconsin, USA on Monday-Friday between 7am-2pm CST. Due to the current COVID-19 health situation, carriers may experience delays and we sadly cannot guarantee their transit times
BREAKING-IN YOUR LEATHER
• The beautiful full-grain leather of your new Xenas can take 3-5 days to break-in as the footbed settles, the leather stretches, and the shoe-padding takes on the shape of your foot
• Please 🙏 avoid wearing your new Xenas outside or at work until you're certain that the size and fit work well for you
• If your feet are feeling comfortably snug then you have a good fit. If you are experiencing uncomfortable tightness after trying them on at home for a bit then we recommend initiating an exchange for a 1/2 size larger
FULL-GRAIN LEATHER CARE
• Wipe your shoes with a damp cloth to remove any dirt and sediment
• Avoid placing your shoes next to a direct heat source as they dry to avoid material damage
• Apply a neutral Shoe Cream to maintain the luster and shine of the full-grain leather
• Use Mink Oil to help waterproof and protect the leather from moisture
SUEDE LEATHER CARE
• Consider applying a stain repellent to prolong the beautiful looks of your Suede Xenas
• Dirt, debris, and scuffs are best removed using a suede cleaning brush
• To get rid of darker stains, try using a regular pencil eraser
• A suede cleaner is another great refurbishment option
XENA SHOE SERVICE
• Your shoes are built to last and we can help to restore the stylish appearance of even heavily worn Xenas by taking them to our fountain of youth
• We've partnered with a professional U.S. cobbler to give you access to our Xena Shoe-Care Service
EXCHANGES & RETURNS
• We believe in providing you with the best customer service which includes worry-free exchanges and returns within a 30-day window after delivery
• Please only wear your new Xenas at home to test the fit, unfortunately, our small team cannot accept used booties that are sent to us with scuffs or dirty outsoles 😔
• To initiate your exchange or return please navigate to our simple Exchange and Return Portal
Customer Reviews
Write a Review
Ask a Question
02/11/2021
Viktoriya Z.

United States
Mitsubishi Chemical Advanced Materials - Lab technician
I am absolutely in love with these work boots! I'm was so excited when the met gaurds came out and that was something that was required for work! These where the only pair of work boots that I've had that didn't need breaking in they were so comfortable out of the box! And the detail and luxury feel of these boots were so we'll though out! I will say that I should have gone a half size up even with thin socks my toes rum on the sides a little! Even saying that I would recommend these shoes to any and everyone! I was so happy that I can still be a strong woman around a bunch of engineer guys but still look put together for interviewing and customers that come in!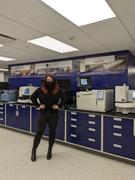 02/05/2021
Hannah C.

United States
Tyson Foods
These boots are amazing! Great construction, fit well, comfortable. The no -slip sole works well. I am so glad I purchased these boots!
01/29/2021
Rebecca A.

United States
Facilities
I cannot say enough about how much I LOVE these boots! They are not only incredibly stylish but incredibly comfortable. The combinations of materials is so attractive. Thank you Xena for supporting ladies in my industry's feet.
01/23/2021
Dennys M.

United States
Glass Manufacturing
I love how stylish these shoes are and how comfortable. I should've stuck to my higher size, as the heel is very roomy. However, when I added a heel insole and wore my crew socks, it fit just right. I would definitely recommend to other women in the same industry.
01/18/2021
Ashlee Y.

United States
Pratt & Whitney
I struggled with these at first as they were very tight, but I was able to work with the wonderful Xena team who suggested many things for me. After about a week of wearing them in my home with thinner socks and insoles they are much more comfortable. Definitely order the half size up! I'm excited to have these to travel with as they are generally lighter than my previous boots and infinitely more stylish! I am also planning to wear them on my motorcycle as well for extra protection.
01/16/2021
Kirstin B.

United States
TWB - manufacturing
These boots are so stylish and comfortable. I am encouraged that the future is in fact female.