Fusion Mt Safety Boot
|
Meet the world's first stylish Metatarsal steel-toe safety boot. This ASTM certified and OSHA compliant model features an internal met-guard made out of flexible open-cell foam that hardens upon sudden impact. Each boot is handcrafted in North America using beautiful full-grain and matte suede leathers. Its seamless design looks so good and feels so comfortable, that you'll want to wear it everywhere. --order 1/2 size up for best fit--
ASTM Certified
OSHA Compliant
Internal Metatarsal
Guard (Mt 75)

Impact Protective




Steel-Toe Cap

Free Domestic
Shipping
30-Day Returns
& Exchanges
6-Month Footwear
Warranty
FUSION MT FEATURES
After receiving countless requests from women in the heavy industry who hate their bulky Metatarsal boots, we decided to do something about it. The Fusion Mt Safety Boot features an innovative design with an Internal Metatarsal Guard (ASTM Mt 75) that is integrated with the steel-toe cap. The met guard is made out of an open-cell foam material that stays soft and flexible at rest but will instantly harden to form a protective shield when exposed to sudden impact. Stunning Midnight Black style seamlessly transitions from beautiful full-grain leather to matte suede. The decorative buckle and blackout YKK zipper complement its beautiful aesthetic:
SAFETY
‣ ASTM Certified (F2413-18) & OSHA Compliant
‣ Internal Metatarsal Guard (Mt 75)
‣ Impact & Compression Resistant (I/75 C/75)
‣ Oil & Chemical Resistant Outsole (D471)
‣ Dual-Density Slip Resisting Outsole (Dry & Wet Surfaces)
COMFORT
‣ Lightweight & Flexible Design
‣ Engineered for Women by Women
‣ Comfortable Ankle Padding
‣ Impact Absorbing Insole (Antimicrobial)
‣ Breathable Mesh Lining (Air-Flow Tech)
‣ Wide Sizes Available
STYLE
‣ World's First Stylish Metatarsal Safety Boot
‣ Full-Grain & Matte Suede Leather (LWG Certified)
‣ Stunning Midnight Black Appearance
‣ Almond Shaped Steel Toe Cap
‣ Premium Decorative Buckle
‣ Durable YKK Blackout Zipper
‣ Handcrafted in North America
CONVENIENCE
‣ Free U.S. Shipping
‣ International Shipping Available
‣ Free 30-Day Exchanges & Returns
‣ Comprehensive 6-Month Footwear Warranty
Customer Reviews
Write a Review
Ask a Question
13 Jul 2021
Emily

United States
Peterbilt
I LOVE these boots! I was super nervous spending this much as the most I've spent on shoes was $90 on custom vans. These are stunning, I'm obsessed with how they look! Super stylish and if I saw them in a store I'd buy them. But enough on the looks let's get to how they feel! They're so comfortable and light! They feel like a normal comfy boot and not like a heavy steel toe work boot that I'm used to. I cannot wait to wear them! As one of a handful of girls at my workplace I'm so happy to feel more like myself. I'm a girly girl by nature and these bring a much needed dose of myself into my hideous uniform. Thank you so much for making me feel like a badass blue collar babe!! Would buy again in a HEARTBEAT!
06 Mar 2021
Michelle P.

United States
Oil and Gas Manufacturing
Absolutely LOVE these boots. They are far cuter than any other option for women AND more comfortable. Couldn't be happier with them!
05 Mar 2021
Sandra L.

United States
Artist, Sculpture
Beautiful well-made boots. It pinched a little in the back the first week of wearing, but that's normal for leather. Just received a second pair in brown, and like the look even better. Will come in handy in the welding/woodworking shops. Thanks!
Construction
I work on the office side of construction but I'm often walking Job sites for long hours at a time. These boots are amazing. They are so Comfortable and stylish! Love Them!
09 Jul 2021
Maria O.

United States
Longshoreman
I have been in the Shipping industry over 20 years. I purchase new work boots every year. The Xena Fusion Mt is the first comfortable boot I've owned. Xena was able to get all the safety features in a stylish boot. The boots took about 5 days to break in with minimal discomfort. Love the look and versatility.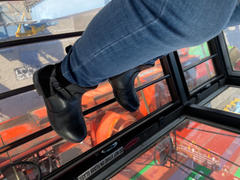 04 Jul 2021
Denise B.

United States
Steel Mill
So glad to finally find women's boots that fit like they should. Extremely durable and stylish.