Omega EH Safety Boot
|
We handcrafted this Limited Release to celebrate the natural beauty of a Midwest Fall. The Chestnut Brown full-grain leather features deep chocolate tones with hints of lively mahogany. It is sourced from a Gold-Rated LWG Certified Tannery to give you the best quality leather from a responsible partner that upholds high environmental standards. Only a handful of pairs were made in each size, so once they're gone, they're gone like the leaves! –Order 1/2 size up for best fit.–
This lightweight steel-toe work boot was designed to meet the needs of professional women in demanding industries. Walk seamlessly from the job site to the office and beyond in ASTM Certified, OSHA Compliant, Electrical Hazard Rated, Slip-Resisting safety boots. Each pair is handcrafted in North America using flexible full-grain leather for a comfortable fit.
ASTM Certified
OSHA Compliant
Electrical Hazard
EH Certified

Impact Protective




Steel-Toe Cap

Free Domestic
Shipping
30-Day Returns
& Exchanges
6-Month
Xena Warranty
SAFETY
‣ ASTM Certified (F2413-18) & OSHA Compliant
‣ Electrical Hazard Certification (18,000 Volts)
‣ Impact & Compression Resistant (I/75 C/75)
‣ Oil & Chemical Resistant Outsole (D471)
‣ Dual-Density Slip Resisting Outsole (Perfect for Dry & Wet Surfaces)
‣ Low-Conductivity Zipper (Auto-Lock Tech)

COMFORT
‣ Lightweight Design
‣ Made for Women by Women
‣ Comfortable Ankle Padding
‣ Impact Absorbing Insole (Antimicrobial)
‣ Breathable Mesh Lining (Air-Flow Tech)
‣ Available in Wide Sizes

STYLE
‣ Beautiful & Flexible Full-Grain Leather
‣ Bourbon Brown Leather Features Natural Scuffs (exact color may vary slightly from photos)
‣ Almond Shaped Steel Toe Cap
‣ Handcrafted in North America
CONVENIENCE
‣ Free Domestic Shipping
‣ Simple 30-Day Exchanges & Returns
‣ Premium 6-Month Xena Warranty
‣ International & Expedited Shipping Options

Customer Reviews
Write a Review
Ask a Question
26 Jul 2021
Emma L.

United States
Manufacturing
Absolutely LOVE my Xenas! Common co-worker comments are "Are those actually steel toes?" or "OMG I need those - where did you get them?" So proud of this small business from my home state of Wisco. It is TOUGH figuring out what to wear as a woman in a manufacturing environment, luckily this is one thing I don't have to worry about! Checks all the boxes for fit, form & function. Thank you Xena team!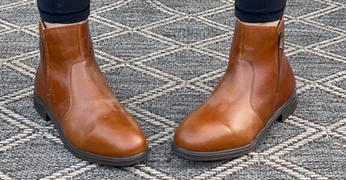 06 Apr 2021
Hannah P.

United States
Nelson Container
These are AMAZING!!! I am a manufacturing sales person and I always envied how the sales guys didn't have to wear clunky, awkward, and obvious steel toes. I wear them everyday and they are honestly more comfortable than my running shoes. They look good with any outfit (especially if you buy the black AND brown to switch it up) and my customers can always rely on me to always have my safety shoes on. Seriously, I give these a 12/10 because I've had them for a year and they still look and feel great! All the women I talk to are super thrilled to finally have an option that makes them feel like the bad-asses we all know we are!
17 Mar 2021
Kenzy M.

United States
Volvo Cars US
Absolutely love my Xena work boots! The style is on point for all occasions and I feel like such a badass wearing them! They are very lightweight, the leather is soft and best of all they stay cool even in direct sunlight (black boots) my feet are cool! Would highly recommend if you're required to wear safety boots, they are worth every penny!
08 Mar 2021
Kerri B.

United States
Weekend Disabled Warrior, Construction
I received my boots and, as I write this, I am fighting back tears. These are not only the most comfortable boots I have ever worn, but I have never had a shoe company go so far to retain me as a customer as you have. I loved these Omegas boots when I ordered them back in November. I needed them for a big construction project coming up and had high hopes, but like most every pair of shoes I have bought in the last two years - they didn't fit. I needed a wide width because of a disability and you folks - you refused to give up on me as a customer. You created the exact size and width I needed, sent me updates on the progress, and then shipped out a fully designed boot with both an elastic band collar and zipper. You even have the reinforced loop at the back that makes pulling them on possible and easy. Then add to this the light weight and comfort that is exceptional. You have a customer for life and I am grateful for your dedication to this art and working women everywhere. Thank you!
05 Mar 2021
Andrea M.

United States
Food and Agriculture
I ordered the 10.5 because of the reviews and I am glad that I did. Even though I normally wear a 10, the 10.5 fits perfectly. They didn't take any breaking in, they were pretty comfy from the get-go, but I know they will get better with age. My only complaint is that my workplace is a wet, cold environment and I love these shoes so much that I don't want to get them dirty! But I will ;)
05 Mar 2021
Rachel M.

United States
Museum exhibit design+planning, restaurant service, car museum curator
I am a museum curator at a auto museum. I work with cars every single day on cars every single day. Then at night I work in a restaurant these amazing boots get me through my whole day! Between oil spills and food spill. I haven't slipped at all and cars don't hurt my feet if they accidentally roll over my toes! They are super comfortable yet but they still very new and need to broken. 180% worth every penny! My male co workers are very jealous of my fancy boots! I love them thank you!!!